Online Research Databases
Mercy's online databases are for student, faculty, and staff use. To access these databases on campus the icons below will take you directly to the database. General research databases are listed first, then History and English, and finally a few miscellaneous databases.
To access from home please view this document to find the appropriate password. The classic list of databases is here. If prompted, log in to your mercyhsb Google account to view these documents.
New 2019-2020 - Mercy's new oneSearch tool. Search all of Mercy's databases and catalogs from a single search box. This is currently being implemented, so results will vary. Implementation will be complete by early August 2019.
NEW during the 2018/19 school year.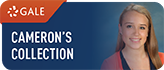 Cameron's collection is a collection of ebooks focussed on navigating the emotional stresses and strains that sometimes accompany high school. Accessing these books is completely private. No-one is able to know who has accessed which books, or for how long. There is also no limit on the number of users per book, so they will never be unavailable to you. If you are accessing from home, the password is available on this document which you can access using your Mercy google account.
Encyclopedia Brittanica High School database - great for general research including history, science and Current affairs.
Reference Shelf Primary sources
We now subscribe to a fabulous selection of primary source collections through the Reference Shelf. If you are looking for speeches, articles by key decision makers and the like, on topics of current interest, use the search box above.
Explora is a great source for History, English and Religion topics. Search results are preceded with a "Topic explorer" entry - with great general knowledge information on your topic. ("Pre-search")
General Research databases.
General One File contains millions of articles from a variety of magazines and journals.
Student Resources in Context provides access to High School level research articles including maps and statistics
Biography in Context contains biographies of over 400,000 significant individuals with details of their lives and times.
Research in Context provides general information and access to introductory information on a wide variety of topics. A good place to start.
Opposing Viewpoints in Context presents a wide variety of pressing issues, and discusses issues from both points of view. A great place to help you form your own opinions.
An essential set of scholarly journals and general interest titles supporting research across disciplines.
The Infobase Issues and Controversies databases provide detail of significant social issues raised both in the US, and worldwide. Great for History and English essay research.
General Reference Center is a concise collection of general interest titles.
The five EBSCO research databases above can be searched individually or all together by selecting the resource you want with the check boxes.
Education source and ERIC are for research in education. MAS complete and Newspaper Source Plus are huge collections of magazine and newspaper articles, both historical and current. TOPICSearch is a bit like Pro/Con and Facts on File - deep looks at specific social and newsworthy topics.
History specific research.
US History in Context contains articles, source material, and reference material on US History.
World History in Context contains similar material to US H i C, but referencing world events.
Global issues in Context is also very useful for history projects, and putting things in perspective!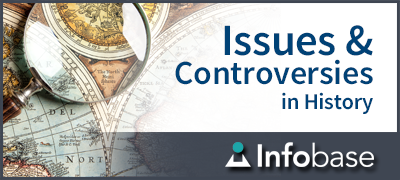 The Infobase Issues and Controversies databases provide detail of significant social issues throughout US history. It focuses on providing both sides of any issue.
English literature specific research.
Expanded Academic contains over 40 million academic articles from a wide variety of journals and magazines.
Gale Literary Resources contains articles, essays and reviews from over 390 literary journals and magazines.
GVRL is a collection of searchable ebooks, on the topics of History, Biography and Literary Criticism.
Literature Resource Center, Twaynes and Scibners provides information on individual authors and analysis of thousands of pieces of literature.
JSTOR Open access books have over 3000 books and detailed articles on a range of academic issues. These come from publishers including UC Press, Yale University Press, and around 200 others.
Layout Element
Three Column Layout
ARTSTOR - a collection of images of museum quality art, photographs, drawings and historical artifacts. Gorgeous.
Health and Wellness resources for all enquiries about your health and well being.