Online Research Databases
Mercy's online databases are for student, faculty, and staff use. To access these databases on campus the icons below will take you directly to the database. Instructional videos are available at the bottom of the page.
To access from home please view this document to find the appropriate password. If prompted, log in to your mercyhsb Google account to view this document.
New 2019-2020 - Mercy's new OneSearch tool.
Search all of Mercy's databases and catalogs from a single search box.
---
Database access by subject

American Government is a database which explores many facets of the US Government, including Federal and Supreme court cases, and legislation on a wide variety of topics.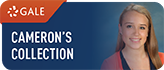 Cameron's collection is a collection of ebooks focussed on navigating the emotional stresses and strains that sometimes accompany high school. We have added additional books to this collection this year. Accessing these books is completely private. No-one is able to know who has accessed which books, or for how long. There is also no limit on the number of users per book, so they will never be unavailable to you. If you are accessing from home, the password is available on this document which you can access using your Mercy google account.
Instructions for OneSearch
Description of this web page
Updates to Gale databases - summer 2019